Opened January 17, 2018 (at 8 am)
Sharp Shopper Grocery Outlet in Butler, PA!
This is our ninth store. The store is located at 180 Point Plaza in Butler, PA between routes 356 (New Castle Road) and 68 (Evans City Road). Please see the satellite image below.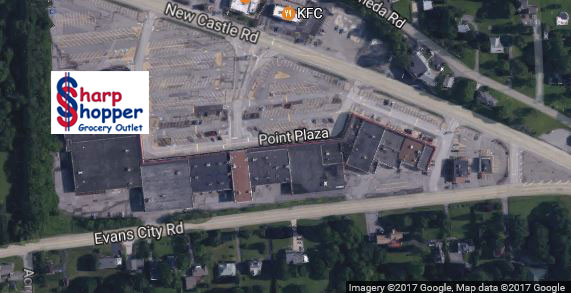 Satellite Image
What is Sharp Shopper?
Sharp Shopper features closeouts from the grocery industry. Closeouts become available because of overproduction, packaging changes, seasonal items, warehouse damage, or short date codes (click here for our Product Dating page). Closeout grocery items may be a national or private label brand and are discounted well below regular retail prices. Our inventories constantly change because of the changing availability of products. Customers say this adds a "treasure hunt" dimension to shopping at Sharp Shopper.
In addition to closeouts, Sharp Shopper offers fresh bread, dairy products, produce, bulk foods, soft drinks, etc. for your shopping convenience. Sharp Shopper operates under all the same state and federal Department of Agriculture regulations as any typical grocery store.
What can you expect when you visit Sharp Shopper Grocery Outlets? You will find great products at low prices without worrying about clipping coupons, carrying bonus cards, or keeping up with the latest gimmicks. You will also find easy-to-read price labels on our products, uncluttered and wide aisles, and efficient, personal checkout. Each of our stores is also handicap accessible with several mobility carts available for use. All of this is why we say: "You can expect great products, low prices, and friendly service at every location!"
Our Mission Statement
Sharp Shopper Grocery Outlet, a retailer of closeout grocery products, endeavors:
• To make quality products available to the community at low prices
• To offer excellent personal customer service
• To provide our customers and employees with a friendly, clean, and safe environment
What are customers saying about Sharp Shopper?
After you shop for a while at Sharp Shopper, your biggest shock is when you go to a regular store and see products that cost 3-5 times as much as you had just paid! C.T.
We were so pleased -- and amazed -- at the variety of products and prices, not to mention the cleanliness of the store and, most of all, the friendly and helpful employees. T.B.
Hello, I just wanted to let you know how much my wife and I LOVE your store... I agree, it is indeed like a treasure hunt--I can't go in just for milk or bread!! I always end up walking up and down the aisles and getting something here, something there and before I know it I have a full cart! My wife teases me and says I am addicted to grocery shopping-I told her-ONLY AT SHARP SHOPPER. S.L.
Thank You for saving my family lots of money! M.C.
I love your store. Your staff is always friendly, courteous, busy and always willing to help locate items... N.M.
Just wanted to thank you for an opportunity to save continually on groceries without the hassle of coupons. We really enjoy the treasure hunt... J.S.
I barely go to the other retailers because I save so much money at your store. I have the best time unpacking my groceries! I get my calculator out, and total the price each item would be in the "regular store" then compare the difference. I believe you all are saving us over $200-$300 per month, partly because of the bulk items you sell and partly because of the low prices on everything else... A.C.
Read more customer comments:
Find us on Facebook